We are sad to say farewell to one of our biggest supporters, and champion of companion animal health and welfare, Professor Boyd Jones NZOM, who has retired from our Board.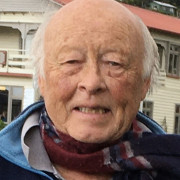 Known as the 'Father of companion animal medicine' in New Zealand, Boyd has been an influential advocate for our organisation, helped with fundraising, and assisted many researchers with projects.
"Boyd has helped get the attention of companion animal veterinarians, modernised our processes, and has been a great sounding board," says Healthy Pets New Zealand Director, Dr Cath Watson.
"We wish him all the best for the future – he will be greatly missed by everyone in the team."