Tauranga Vets has a long history of helping keep animals healthy in the Bay of Plenty.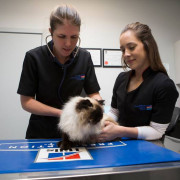 Whether it's companion, lifestyle, equine or production animals, their dedicated and experienced team of veterinary professionals takes great pride in treating and caring for animals in the region.
One of the region's first veterinary services, the practice now has branches in Te Puna, Tauranga, Katikati and Papamoa, and is very much a part of the communities it serves.
And it's this community spirit that makes a partnership with Healthy Pets New Zealand a natural fit for both staff and clients, says Tauranga Vets Managing Director, Dr David McDonnell.
"Our team is just as passionate about animal health and welfare as our clients are – the work done by Healthy Pets New Zealand researchers resonates with us all." 
Clients make donations through collection boxes and after their pet passes away. Tauranga Vets  then puts aside funding to donate to Healthy Pets New Zealand.
"Our clients know they are doing something positive by supporting Healthy Pets. It can really help them to deal with the grief of losing a beloved companion at this difficult time.
"Like us, our clients know the money they donate will be put to good use. With their help, we look forward to supporting Healthy Pets New Zealand research for many years to come," says David.