We're pleased to welcome Dr Robyn Jarrett, our newest Healthy Pets New Zealand Trustee!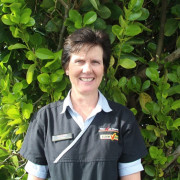 Robyn, who is also a member of the Vet Centre practice based in Pukekohe, Auckland, takes up a position vacated by Professor Boyd Jones, who retired late last year as a Healthy Pets Trustee.
Brought up on dairy farm, Robyn has always had a passion for animals. After leaving the family farm, she studied veterinary medicine at Massey University. After graduating she returned to the area where she grew up to practice as a large animal veterinarian before heading to the UK with her husband. There she practiced small animal medicine and returned to New Zealand where she completed a Masters in Companion Animal Medicine in 2011.  
Robyn went on to become a member of the Australian and New Zealand College of Veterinary Scientists in Small Animal Medicine in 2012.
Today she enjoys the same rural lifestyle she did as a child. With her family she looks after a dog, two cats and two kunekune pigs. "There is always room for more waifs and strays," she says!