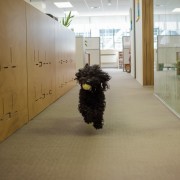 Wellington law firm Mahony Horner's dog friendly policy is bringing benefits not only to staff and their animals but also to clients.
When Laura Tidey asked if she could bring Graham, her adopted 8-week old spoodle to work in 2015, the answer was 'yes'.
"Mahony Horner has a culture of openness to trying out different ways of working, so it was a good fit for a pet-friendly workplace experiment," says Laura.
She says Graham became ingrained into the firm culture pretty much straight away.  Two years later Elspeth Horner, one of the firm's Principals, adopted a cavoodle (Che), who joined the pack. 
"I think it's a dog-owner's dream to have your dog with you at work.  From a practical perspective, it's great not to have to worry about leaving your dog at home all day, or when you have to work a bit later to meet deadlines.  Having regular breaks to take the dogs for a walk, or just for a quick play, is great for stress relief and general well-being. For the dogs, I think that the benefits are also clear.  They get plenty of attention and socialisation.  Graham loves coming to work, and is excited to see everyone each morning."
Coming into the office is part of their daily routine for Graham and Che. "It helps that both dogs have been coming into the office since they were small pups. Most of the time Che and Graham hang out with Elspeth and myself near our desks.  We take them outside several times a day for fresh air, and our colleagues will often take them out on walks or runs," says Laura.  
She says there are few, if any downsides. "There are occasions where the dogs make a bit of a ruckus whist playing with each other, and we might have to explain to someone we are speaking to by telephone why they can hear barking in the background!"
Laura says feedback from clients has been positive, with many asking after the dogs on arrival. "As lawyers we are often working with people in stressful situations, and having a dog around can really make people feel more at ease.  It probably also makes visiting a lawyer more enjoyable in general!"