The New Zealand Veterinary Association (NZVA) Conference was held at the Claudelands Event Centre in Hamilton from 20-22nd June, 2022 and it proved to be a great opportunity for the Healthy Pets Trustees to meet and greet both delegates and other exhibitors.
We were thrilled with the response to our Silent Auction, with two fabulous original paintings by Kerikeri artist Tessa Brown on offer. These fantastic artworks raised over $500 for Healthy Pets NZ, and we'd like to congratulate Maureen Forsyth and Kim Kelly for their successful bids and hope they get many years enjoyment from the artworks.
It was wonderful once again to have the support of our Principal Sponsor, PD Insurance, who very kindly supplied us with some wonderful pull-up banners to provide some pizazz to our stand, with many delegates very interested to learn of their generous offer of a $200 donation to Healthy Pets NZ by using the code "HPets" for everyone signing up for a pet insur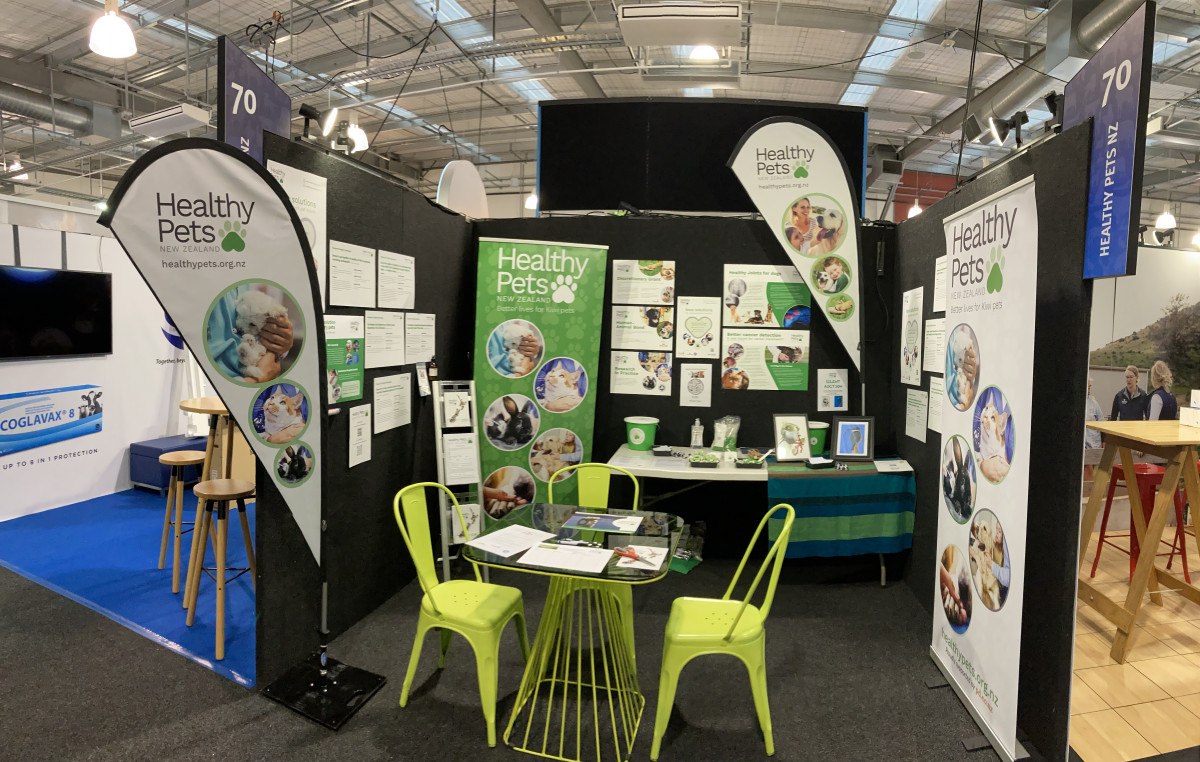 ance policy with them.
That was just one of the questions delegates answered in our Quiz, kindly supported by Royal Canin, with Maddie Jardine drawn as the successful winner of a 3 month supply of food for her dog Frankie. Thanks Royal Canin!
We had an extremely positive response from everyone we spoke to about Healthy Pets and were very excited to have John Elstrom of SVS Veterinary Supplies agree to sign up as a Partner on the spot!
SVS is a proudly 100% New Zealand owned & operated company who focus on supporting NZ veterinarians and the wider veterinary community. They provide clinical supplies, offer a veterinary laboratory service and HR consultancy. They have been long term supporters of the NZ Veterinary Association and NZ Veterinary Nursing Association, so Healthy Pets NZ is thrilled to be in such esteemed company.
All in all, the Conference provided a wonderful opportunity for the NZ veterinary industry to finally come together face to face, share our experiences over the last couple of very challenging years, and plan our futures together. We can't thank the NZVA enough for putting on such a fabulous event and inviting us to be part of the experience!